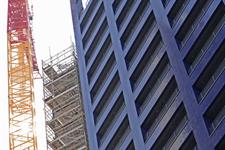 RICS has published a new professional statement outlining how its members that are involved in assessing viability in the planning system should prepare reports and conduct themselves.
The document Financial viability in planning: conduct and reporting includes a series of mandatory requirements for chartered surveyors practising in planning viability.
Among them is a requirement that, when preparing a viability report, a statement must be provided confirming that "no performance-related or contingent fees have been agreed".
It also introduces a presumption that viability assessments should be published in full, except "where information may compromise delivery of the proposed application scheme or infringe other statutory and regulatory requirements".
It adds that any exceptions "must be discussed and agreed with the local planning authority and documented early in the process".
In addition, viability assessments on behalf of developers and any subsequent reviews "must be accompanied by non-technical summaries of the report so that non-specialists can better understand them".
Last year, a north London council and the capital's deputy mayor for housing wrote an open letter to RICS urging it to rewrite the document in the wake of a High Court ruling on viability.
Earlier this month, the Greater London Authority's viability planning chief said that new national policies and guidance on viability are resulting in more "realistic" land valuations in new developments and reducing "confusion and contest" around the issue.