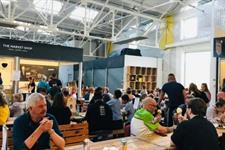 Retail markets were once seen as outdated parts of the town centre offer, which some councils were prepared to sell off. But there is growing realisation that they can play a renewed role in attracting people to flagging town centres, says Graham Wilson, policy advisor at the National Association of British Market Authorities (NABMA). "Market halls are now being rethought as the focus for their communities, housing a diverse retail and food offer and a range of activities," says Wilson.
Councils need to accept that their markets will not generate great surpluses to subsidise other activities, as they have in the past, he explains. The benefits from a lively market hall lie in revitalising the town centre and providing a source of affordable goods.
Here are three key points to consider when renewing retail markets.
1. Bring in food, but keep a careful balance of retail offer
Many markets are introducing a street food offer as part of their regeneration strategy, says Martin Blackwell, an independent place management consultant. He points to Norwich market in the centre of the city, which a couple of years ago had a 30 per cent vacancy rate. "It is now full and cooked food sales make an important contribution, offering meals from all over the world," he says. This includes stalls set aside for people trying their hand for the first time, he points out.
It's important to ensure that the food is of a high quality, but that it is cheaper than surrounding restaurants and cafes, says Ricky Davies, managing director of Radcliffe Market in Bury, greater Manchester, who has overseen the rebirth of the town's market. "We don't allow any microwaves or pre-cooked chips," he says.
As markets expand their offer, their community role must not be lost, argues Sara Gonzalez, professor of human geography at Leeds University. "Research we're carrying out for the Economic and Social Research Council (ESRC) shows that local communities feel ownership of their local market," she says. They still perform an important role, particularly for older people and families, in providing low cost goods in packaging sizes to suit their needs, which are not available in supermarkets.
Chris Savage, projects manager at the National Market Traders Federation (NMTF) says that the different offers can support each other. The food and other activities can encourage people to spend longer in the market, and buy their everyday goods as well. He points to the refurbishment of Hull Trinity Street Market, where the traditional food hall now includes cooked food stalls selling restaurant style food and drink, including one selling its own beer brewed on the premises. They sit alongside the fresh fruit and vegetable stalls and others selling everyday goods, he points out.
Another model adopted by some markets is that different markets take place on different days or times. "The street food or retro markets take place in the late afternoon or evening," says Savage.
There need to be differential rents for the different kinds of stalls, suggests Gonzalez. Street food stalls can afford to pay more. "If all the rents go up, everyday goods stalls could be driven out," she points out.
2. Promote a wide range of activities
Markets are traditionally spaces where people meet, and a diverse array of activities can encourage that role.
Revamped markets are increasingly including performance spaces, where jazz concerts, film shows and speciality markets can take place, says Savage. These can take place inside the market or in the public spaces around them.
3. Consider new forms of management
NABMA's Wilson suggests that to perform this wider role, new forms of management could be considered. Markets have traditionally been managed by local authority officers within a separate market department or streets and highways. "They need to work across departments, involving economic development, planning and regeneration to maximise the wider benefits," he says. He suggests that they should include local universities, pointing to Huddersfield University's partnership with the town's Queensgate market: "The Creative Hub at the university puts on exhibitions and displays in stalls and around the market."
Some councils have created new structures to manage markets, including bringing in social enterprises and community interest companies, says Frances Northrop, director at the New Economics Foundation. "This ensures that any surpluses from the markets get kept in the local community," she says.
Councillor David Jones, leader of Bury Council, says that, "They went out to the local community to run Radcliffe Market because they wanted to create a partnership with it to revitalise the underused space." A community benefit society has been set up to manage it. Radcliffe Market's Davies points out that, "local people can relate better to an organisation outside the council".
Businesses, connect now on LinkedIn