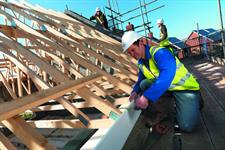 Major housebuilder Vistry Homes and housing association Aster Group are joining forces to deliver 1,359 homes over four years, a quarter of which will be for affordable tenures. The partnership consists of five joint ventures across the south of England and represents an investment of £167 million from the two organisations. The pair have already developed more than 500 homes, with their most recent joint venture being in Kilnwood Vale, Horsham, west Sussex, where they are delivering 130 homes. Amanda Williams, group development director at Aster Group, said, "We've set ourselves ambitious delivery targets and this partnership will play a vital role in meeting these goals." The housing association built 1,156 homes in the year to the end of March 2019 and is aiming to deliver more than 10,000 homes over the next seven years. Vistry Group was formed by Bovis Homes' acquisition of Galliford Try's housebuilding arm Linden Homes and the partnerships division of Vistry Partnerships.
Rossendale Borough Council is planning to drop the second phase of its ongoing regeneration of Rawtenstall town centre, saying that its initial regeneration works have been successful and further works are no longer needed. The town has benefitted from a new bus station, refurbishment of its town hall and creation of a new public square, and had been set to have a mixed use development. Instead, at a meeting next week, the council is expected to discontinue the project, focusing instead on such issues as car parking. Councillor Alyson Barnes, leader of the council, said, "We want to grow what we have already got rather than deliver a big project, which may not be as beneficial as it may appear to be and could hamper the growing buzz in the town."
North Tyneside Council has acquired a redundant office block in North Shields and plans to replace it with a housing-led regeneration scheme. The three storey Unicorn House had been empty for almost seven years and its redevelopment forms part of the council's emerging North Shields town masterplan and contributes to its strategy for North Tyneside. "This is a fantastic opportunity to really revitalise and breathe new life into this part of town, which links the town centre with the riverside, and attract more people to live in the town centre," said deputy mayor of North Tyneside Council, councillor Bruce Pickard.
Kingston Council in south west London is setting up its own company to manage a scheme of 79 new homes and is partnering with investor Legal & General to build them. The council plans to develop a site in the town with one to four bedroom homes, a police office, residents' work hub, car and cycle parking and communal space, including play areas.
Businesses, connect now on LinkedIn