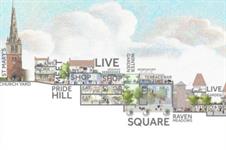 Local authorities acquired more than £6.5 billion of commercial property in the three years to 2019, spending habits that attracted the attention of parliamentary watchdog the National Audit Office (NAO). Its report, published this month, charts the spending patterns and the risks, NAO head Gareth Davies pointing out, "The benefits from this investment must be considered against the potential risks to authorities, particularly given the concentration of this activity and associated borrowing within a relatively small group of authorities."
The report, Local authority investment in commercial property, finds that 80 per cent of that total spend came from just 49 local authorities, with many big spenders being in the south east of England. Acquisitions were mostly office and retail properties, with £3.1 billion being spent on the former and £2.3 billion on the latter.
The drivers for local authorities to turn property investor are varied, with some having the basic aim of securing rental income to support their delivery of essential services. When it comes to shopping centres, however, the imperative for acquisition is often likely to be town centre regeneration.
Strategies for town centres
Local authorities are having to step in and take the lead in planning, funding and delivering town centre regeneration as high streets and shopping centres fall out of favour with property owners, retailers and shoppers, research by commercial property consultant Lambeth Smith Hampton (LSH) and retail property networking body Revo notes. The long list of local authorities taking this course of action includes Shropshire Council, which bought Shrewsbury's Darwin, Pride Hill and Riverside shopping centres, Bolton Council which bought the town's Crompton Place centre in 2018 and Havant Borough Council, in Hampshire, which has acquired the local Meridian centre.
These and many more local authorities are bringing forward their own strategies to drive regeneration, repurposing and revitalisation. "There is no one size that fits all," stresses Steve Norris, LSH's national head of planning, development and regeneration. There can, however, be common factors in approach, Norris citing the need for regeneration to have good leadership at a local authority level and cross-party support. He continues: "Councils need to have a well thought out plan, which is more than a masterplan or design-led approach and is commercially driven".
A strong business case can be important not only for the town centre's future but also in responding to local concerns as plans are implemented. Shropshire's acquisition of its three shopping centres attracted negative media attention when the assets' value dropped by around a fifth in their first year in council ownership. But this is only the first stage in a programme that will see the Darwin centre upgraded as the primary retail destination, vacant units in Pride Hill repurposed and the Riverside site redeveloped. The programme is itself part of a broad-ranging strategy for the town centre, called the Shrewsbury Big Town Plan, which is being brought forward by Shropshire Council, Shrewsbury Town Council and the Shrewsbury Business Improvement District. "Councils like Shropshire can be engaged on a 20, 30 or 40 year strategy. This is what a lot of local authorities should be doing," says Norris.
The report from the LSH/Revo research, Investing in the future: Can we fix our "broken" town centres? points to potential policy and funding levers that could help drive revival, like town centre enterprise zones. Its ongoing work will look at these further, as well as emerging good practice across the public and private sector.
The research highlights the need to think more creatively about the ingredients that make a successful, diverse and vibrant town centre. For some shopping centres, repurposing may be an option with floorspace being combined for uses such as education, health, library, leisure or market halls. "A diversity of uses can underpin town centres," says Norris. "They are still community hubs."
When a centre is clearly failing, however, tough decisions may have to be made. "Contraction has to happen. Some town centres have three shopping centres, which is one – or sometimes two – too many," says Norris. Location will be key to decisionmaking, he explains. "Most of the bigger retail brands conventionally needed 250 stores in their network, but they now need just 50, so the big regional centres will be home to the bigger retailers. Locations outside the top 50 town centres will struggle to fill two centres." Inevitably, some ageing centres with poorer quality floorspace may find that their days are numbered, says Norris: "Some are old and not fit for purpose and the only solution may be to start again".
Businesses, connect now on LinkedIn